NutriStem V9 XF Basal Medium
Defined, xeno-free, serum-free culture medium for hPSC optimized for vitronectin
Description
NutriStem® V9 XF Medium is a defined, xeno-free, serum-free medium designed to support the growth and expansion of human pluripotent stem cells (hPSC), using vitronectin and enzyme-free passage using EDTA. It contains only the essential components required for long-term maintenance of hES and hiPS cells. NutriStem® V9 XF Medium shows superior proliferation rates during long-term cultures, while maintaining the pluripotency of the cells.
NutriStem® V9 XF Medium allows culture of hPSC in vitronectin pre-coated culture, as well as direct addition of vitronectin to the medium (no need for pre-coating).
Features
Produced under cGMP guidelines
Maintains human ES and iPS cell pluripotency at high passage
Superior results using Vitronectin, may be used with Matrigel coated plates
Supports long-term expansion
Cytokine-free basal medium, applicable for EB formation, reprogramming, and differentiation
Does not contain antibiotics.
Sample Data
Long-term Expansion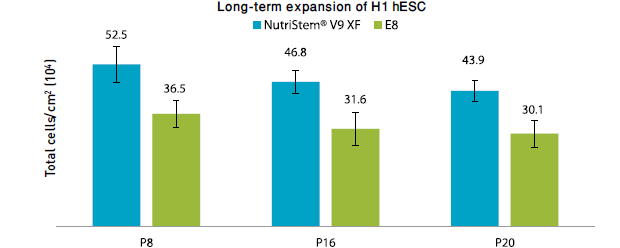 Nucleocounts performed on equal volume of cell suspension Chemometech, (count of aggregated cells) during long-term expansion of H1 cultured in NutriStem® V9 XF medium and E8 under a weekend-free feeding regime using 0.5μg/cm2 Vitronectin ACF. NutriStem® V9 XF medium shows superior proliferation rate in long-term culture (over 20 passages)
Phase contrast images (x100) of H1 hESC culture maintained in NutriStem® V9 XF medium under a weekendfree feeding regime, using 0.5μg/cm2 Vitronectin ACF. Representative images from culture at P6, P16 and P20. Undifferentiated colonies maintained during long-term culture of H1 hESC
Immunofluorescence staining
Immunofluorescence analysis of human pluripotent markers of H1 hPSC expanded in NutriStem® V9 XF medium under a weekend-free feeding regime using Vitronectin ACF. Cells from P8 were fixated and stained for the classic pluripotent surface markers: TRA 1-60 (Alexa Fluor) (green) and nuclear conjugated markers: Nanog-RRX, counterstained with DAPI (blue). Scale bar 200μm. Cells cultured in NutriStem® V9 XF Medium on vitronectin express high levels of pluripotent markers
Flow cytometric quantification

Immunophenotyping analysis for human pluripotent markers of H1 hESC culture maintained in NutriStem® V9 XF medium under a weekend-free feeding regime using 0.5μg/cm2 Vitronectin ACF at P8 and P17. Data presented as % expression from gated viable cells. High expression of pluripotent stem cell markers in cells cultured in NutriStem® V9 XF medium on vitronectin
Specifications
QTY
500 mL
Form
Liquid
Brand
NutriStem®
Storage Conditions
Store at -10° to -20°C
Quality Control
Each lot is tested for performance using H1 hESC by expansion of the cells for 3 passages, IF staining for pluripotency marker, and morphology. Other tests include sterility, pH, osmolality and endotoxins levels.
Specifications
Components:
NutriStem ® V9 XF Basal Medium, 500 mL
NutriStem ® V9 XF Supplement Mix, 1 mL

Cell Type:
Stem Cells (Embryonic), Stem Cells (Human), Stem Cells (iPS - Induced Pluripotent Stem)
Protocol
/media/import/bi/V9 XF-protocol.pdf
Brochures
/media/import/bi/V9 XF -brochure.pdf